OSINT Live Speaker Spotlight: David Benford
David Benford will speaking at this year's OSINT Live and will be sharing some of his OSINT wisdom. In this article, we're shining the spotlight on David to enable attendees to learn more about David and the topic he's presenting at OSINT Live.
Who is David Benford?

David Benford is the managing director of Blackstage Forensics in the United Kingdom. He has worked internationally in digital forensics and open source intelligence since 2007 and his specialist field is around privacy & security vulnerabilities from online data and mobile devices. He works with numerous organizations, from law enforcement, military, TV, film & music, sport, and public & private sectors. David is a law enforcement special officer since 2014.
What will David be speaking about?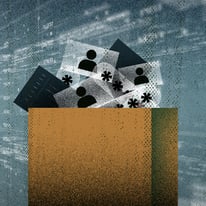 David will be presenting 'Hostile Profiling: Security & Privacy Vulnerabilities from Social Media & Other Online Sources'.
Most people are aware of vulnerabilities around social media, but these represent only a part of the bigger threat picture. This presentation will explore the different types of data connected to us can create opportunities for criminality and members of the press to trace our homes and our family, friends and even contact details and passwords. This dynamic presentation will demonstrate the methods used by third parties to digitally profile their targets through online open sources. The subject matter will cover everything from the types of data that users, sometimes unwittingly, share online that can create both privacy and security vulnerabilities and increased digital exposure. It will also offer some solutions and strategies around mitigating such attacks.
OSINT Live is a free, full day, training and educational event, taking place on September 15th, 9 AM - 5:30 PM ET. To register for OSINT Live and David's session, head over to https://www.skopenow.com/osint-live.
READERS ALSO ENJOYED