Twitter's #OSINTForGood Community is Saving Lives
Open Source Intelligence (OSINT), or the analytical product of raw, publicly available data, has applications in threat protection, ethical hacking, competitive intelligence, and almost any online investigation. OSINT tools like Skopenow are frequently used by businesses in government, law enforcement, insurance, cybersecurity, private investigation, and many other industries to optimize data collection and analysis. However, a new application, one focused on using OSINT for community participation and the public good, is flourishing on Twitter. You can find it under #OSINTForGood.
The first public tweet using this hashtag was on July 12th, 2017 by user @baywold88. The tweet featured this article about the Europol Stop Child Abuse - Trace an Object website where anyone can virtually identify logos, clothing, household products, or other items in photographs from child abuse investigations to help law enforcement agencies find new leads. By the end of 2017, 50 child abuse victims in 14 different countries were identified with the help of this website.
Posts that followed include instructions on how to become a "Citizen Sleuth" to help political officials and notable stories of law enforcement using OSINT to solve crimes. One recounts how one mother looked through hundreds of human trafficking ads before finding her daughter who had gone missing 270 days prior, but that this process could've been automated using new artificial intelligence that can scan ads on known human trafficking websites for law enforcement officers to investigate. Another article details how police tracked down a pedophile after recognizing his ring in a photo.
Mid-2019, the hashtag gained popularity and pivoted to center more around harnessing the collective OSINT skills of users across the internet for finding missing persons. The people who follow this hashtag generally possess some OSINT or investigative experience, training, and/or interest, and are looking to use their skill sets to teach and help others.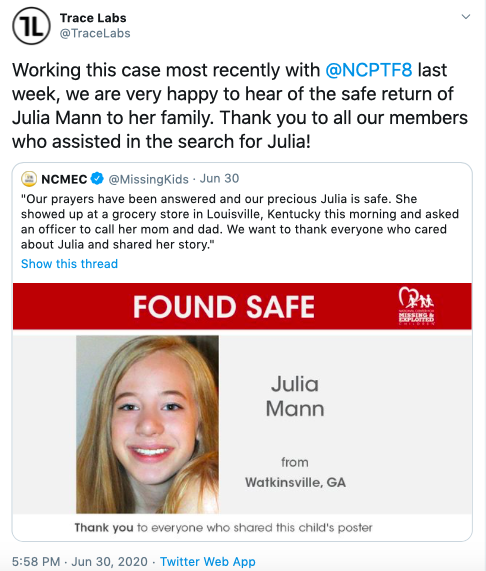 The application of the hashtag has continued to evolve with the help of Trace Labs, a non-profit organization that regularly holds Capture the Flag (CTF) events for OSINT users to gather together, individually or in teams, and put their talents to use in competitions to help collect OSINT used to help find missing persons. Their focus is on crowdsourcing intelligence to find leads, and they offer OSINT training and publicize their events on #OSINTForGood. Trace Labs also sometimes partners with the SANS Institute's cybersecurity training students in their CTF events.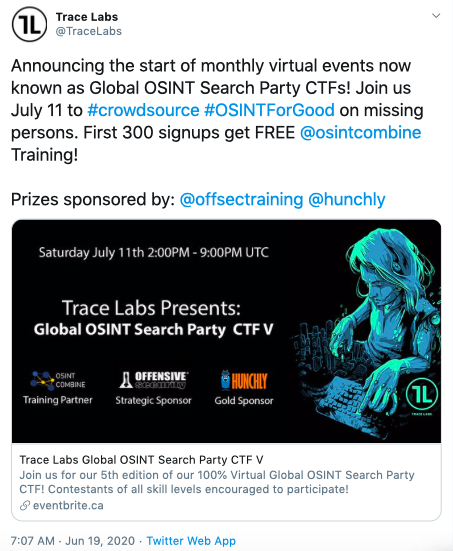 OSINT isn't only for highly trained professionals. Anyone interested in putting their investigative abilities to use for finding missing persons and potentially saving lives can join a community of supportive, like-minded people who use their free time to do good in the world.
Manually collecting and analyzing OSINT for any investigative purpose can be very time-consuming. OSINT tools like Skopenow automate the process to save time and make sure you don't miss any key information.
Skopenow is an analytical search engine that uses social media and open web data to provide actionable intelligence. Skopenow's platform identifies, collects, and analyzes public information on people and businesses by scouring millions of sources and data points. While Skopenow is built for use in insurance, government, and law, the product is also highly applicable in HR, real estate, and education.
READERS ALSO ENJOYED