OSINT Live Speaker Spotlight: Joe Gray
Joe Gray will speaking at this year's OSINT Live and will be sharing some of his OSINT wisdom. In this article, we're shining the spotlight on Joe to enable attendees to learn more about Joe and the topic he's presenting at OSINT Live.
Who is Joe Gray?

Joe Gray, a veteran of the U.S. Navy Submarine Force, is the inaugural winner of the DerbyCon Social Engineering Capture the Flag (SECTF) and was awarded a DerbyCon Black Badge. Joe is the Founder and Principal Instructor at The OSINTion. By day, Joe is a Security Threat Hunting & Intelligence Engineer at Mercari.
As a member of the Password Inspection Agency, Joe has consistently performed well in Capture the Flag events, specifically those involving OSINT. Examples include 2nd Place in the HackFest Quebec Missing Persons CTF and Winning the TraceLabs OSINT Search Party during DEFCON 28 (as a member of The Password Inspection Agency) and DEFCON 29 (as a member of The Federal Bureau of OH-SHINT). Independently, Joe placed 4th in the DerbyCon OSINT CTF and 3rd in the National Child Protection Task Force Missing Persons CTF.
Joe has contributed material for a variety of platforms such as Forbes and Dark Reading in addition to his platforms. Joe has authored the OSINT tools DECEPTICON Bot and WikiLeaker in addition to the book, Practical Social Engineering, published via NoStarch Press.
What will Joe be speaking about?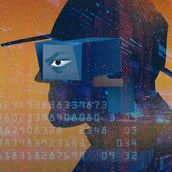 Joe will be presenting 'Darn Nasty Surveillance: Using DNS and Source Code for Investigations'.
If you come from the information security side of OSINT, you are probably familiar with DNS - Domain Name System or Domain Name Service (depending on your school of thought). It is what allows us to connect to sites without knowing IP addresses and directory structure. In this presentation, Joe will get you up to speed on the types of records and value in using them for investigations. As an added topic, we will also discuss using web source code to enumerate entities and further our investigations.
OSINT Live is a free, full day, training and educational event, taking place on September 15th, 9 AM - 5:30 PM ET. To register for OSINT Live and Joe's session, head over to https://www.skopenow.com/osint-live.
READERS ALSO ENJOYED