Reducing Insurance Fraud Using Open-Source Intelligence (OSINT)
Open Source Intelligence (OSINT) is the aggregation and analysis of publicly available information for intelligence purposes. This applies to many industries, including global security, human resources, commercial underwriting, and private investigation.
OSINT tools like Skopenow speed up and optimize any online investigation, saving hours of manual work and making sure you have all available information. For the insurance industry, one of the main applications is detecting fraud.
Bodily Injury and Workers' Compensation
When investigating suspicious claims for injury or workers' compensation, you can use OSINT tools to further investigate and monitor the credibility of a claim.
For example, a construction worker bumps their head on a job and files a fraudulent workers' compensation claim for a head injury. They cite having chronic headaches, nausea, and blurry vision as symptoms. After review, an insurance adjuster flags the claim for further investigation and passes it along to the Special Investigations Unit (SIU). The SIU can then use an OSINT tool, like Skopenow, to quickly comb through all of the claimant's social media and online presence. Skopenow's behavioral analysis tool will find and highlight any text, images, or videos that may show that the claimant is exaggerating the extent of their head injuries - this is accomplished by using AI to categorize content as physical activity, accident, travel, vehicle usage, injury, and life risks. In this example, the SIU used Skopenow to visualize the construction worker's posting frequency directly after the injury and diagnosis occurred.
Commercial and Business Insurance
OSINT tools can also help with preliminary commercial claims investigations. When evaluating a one-person business, it can be a tedious process to gather all actionable data. For example, landscapers, plumbers, and contractors are often one-person and generally low-risk and low-premium businesses. OSINT tools can aggregate relevant reviews, licenses, business operation details (list of services), and social media listings. In a handful of recently reviewed cases, Skopenow was able to determine that the businesses in question advertised additional undisclosed services on their social media pages. These flags included fixing roofs, tree cutting, electrical work, and a few other high-risk associated services that are more dangerous than typical services offered by landscaping and general contracting.
Property and Casualty Insurance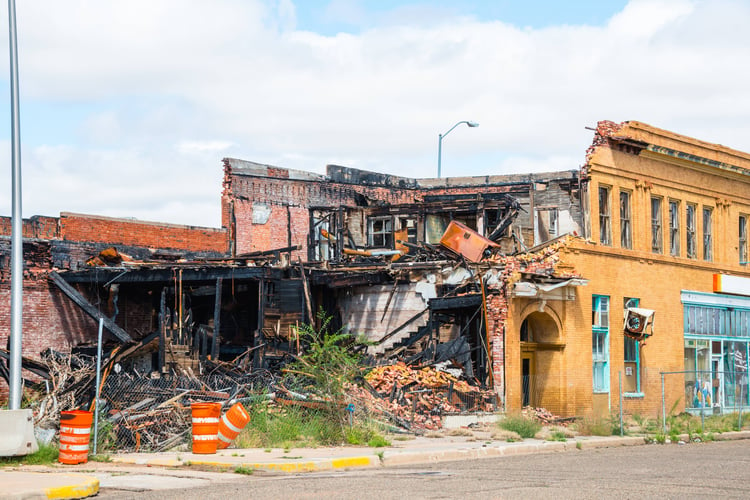 Similar to bodily injury and workers' compensation investigations, OSINT can help SIU teams examine if a property was damaged to the extent that was claimed.
OSINT and Skopenow can investigate suspicions of claimants damaging their own property to collect insurance money. It is also possible to make connections between hidden parties that were involved in the destruction of the property.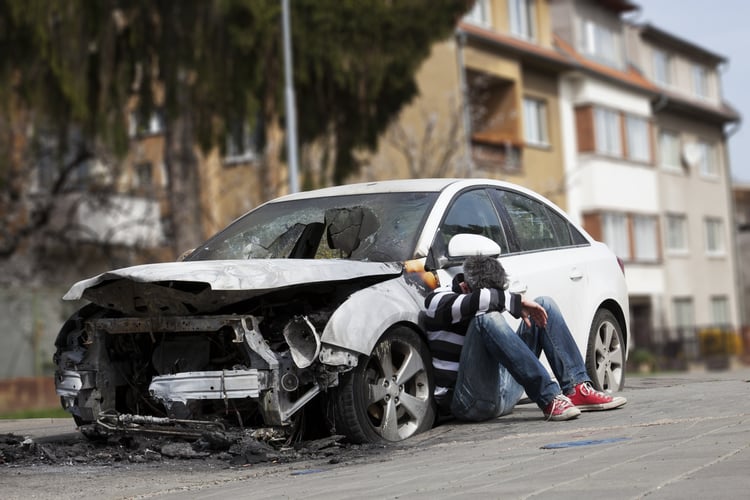 Let's use an example of a single-vehicle accident where the car was totaled. If an adjuster is suspicious that the accident was staged, then they can use Skopenow to automatically detect and flag possible motives using the claimant's social media.
Skopenow can also investigate possible accomplices in staged accidents. The Association Search runs a comparative analysis between two people or organizations and produces a visual overlap of their level of connections; maybe they are Facebook friends, went to the same high school, or are tagged in the same photos. This is useful when an investigator suspects that a crime was staged by more than one person or if there is a supposedly independent witness that seems to be connected. Skopenow's Heat Mapping technology can possibly pinpoint a person's location at the time of an accident, so investigators can check alibis and see if a possible conspirator was in the area.
Skopenow uses open source and social media data to detect fraudulent behaviors and vastly improve any individual SIU's insurance claim investigation. Whether it's suspicious workers' compensation, business insurance, or property damage claims, adding Skopenow into your workflow will save you time and money countering fraud.
Skopenow is an analytical search engine that uses social media and open web data to provide actionable intelligence. Skopenow's platform identifies, collects, and analyzes public information on people and businesses by scouring millions of sources and data points.
READERS ALSO ENJOYED